Hey everyone, for our US localization of the papithugz brand we celebrate by bringing you this sizzling hot threesome with the most energetic guys you've seen having sex. The three dudes wasted no time getting naked and working on each other's cocks and asses and they continued for the whole afternoon. Enjoy the sight of some horny thugs today as they get to have their all male fuck fest on camera for you. It's a show you just have to check out if you want to see some hot studs getting to go balls deep in one another's mighty fine asses. So let's get this show started and see them in some naughty all gay action today as we know you're eager to see them play as well.
As you can see, they have this nice little bedroom all to themselves and you can bet that the trio of tattooed studs took their time to play with one another as much as they could today too. Let's check out it starting off as they decide who gets to be on the receiving end. Once that little matter gets settled nicely, the guy starts to go down on his two buddies. So sit back and relax as you get to watch him sucking and slurping on some mighty fine and thick cock to make sure that both of the others are nice and hard. Then he bends over for them and takes their cocks in both his mouth and his ass, loving every minute of their fuck scene. Have fun with it and see you soon!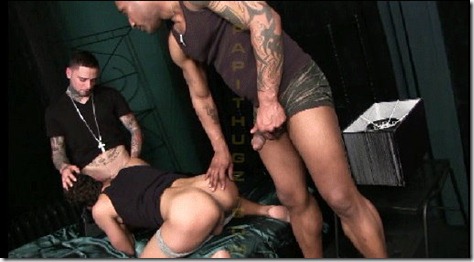 Check out Gusto taking a fat cock deep inside his ass!